These "EAT" napkins are just adorable, and once again, super easy to make.
DIY Stamped "EAT" Napkins
Plain white cloth napkins
Rubber stamps
ink pad in color of your choice
decorative ribbon
pins or hot glue
1.) Fold the napkin the way you'll want it showing when it's sitting on each plate.
2.) Carefully stamp "E" "A" "T" on the bottom of the napkin.
3.) Tie decorative lace ribbon around the napkin. Layer it with another contrasting piece of ribbon.
4.) Secure the ribbon in the back by either using a small pin or by hot gluing it together.
I paired the "EAT" napkins with these seersucker ones to create dimension and interest on the table. They were a huge hit! So cute - and you can be as creative as you want with these. Use different color cloth napkins, play around with wording! Options are endless ;-)
xo,
Kate, Kara, and Kacey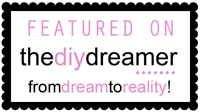 Go check it out!
Linking to: